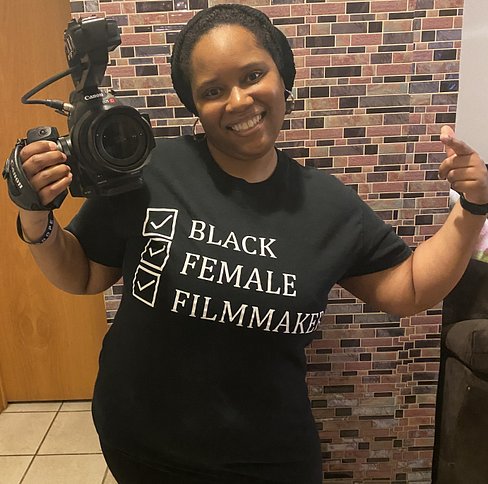 Jessica Scott is an Emmy-nominated producer and an award-winning independent filmmaker who was born and raised on the East Coast. She now calls Chicago home, where she has lived for the past 16 years, and where she earned her Bachelor's degree in Journalism from Columbia College Chicago and her Master's degree in Fine Arts from Northwestern University. Working as a video journalist inspired her to pursue filmmaking and now, she merges the two together to make journalistic-style documentaries.
Scott's current film The Color of Skin (2019, 20 min)—a documentary that explores what it is like for African-Americans, who have been brutalized, harassed, mistreated, disrespected and discriminated against by white men has been selected to 12 film festivals, and was awarded Honorable Mention by the Detroit Black Film Festival and nominated for Best Short Documentary by the National Black Film Festival in 2020.
Her film Sneakers: It's Complicated (2017, 9 min)—a film about sneakers and its impact on music, art, fashion and the connection between Chicago and Air Jordans. This film was influenced by Scott's love for sneakers and her obsession with the Air Jordan V; speaking of which, took her 30 years to get. This film has been screened at the Hip Hop Film festival in Harlem, NY, Black History Month Short film festival in Hoffman Estates, IL and Jack Daniel's Gentleman Jack Real to Reel film festival in Chicago, IL.
She directed and edited her first documentary, Snitches Get Stitches: The Code of the Streets (2015, 4 min)—a documentary that explores the unspoken code of the streets in the Black community. It has been viewed almost 45,000 times on YouTube.
Scott hopes to make documentaries that will provoke thought, create change in her community and encourage people to make a difference in other people's lives. She believes that she can influence her community by telling truthful and compelling stories, which can lead to positive change and community outreach. She is eager to show the world her people from her community through her lens.
Master of Fine Arts in Documentary Media | Northwestern University
Bachelor of Arts in Journalism | Columbia College Chicago
Master of Health Science | Governors State University
Master of Social Work | Barry University
Bachelor of Arts in Psychology | Hampton University